Learn more about 360 Total Security
Recently, it is discovered that approximately 35 million US voters' personal information from 19 states is selling on a popular dark web forum.
The researchers said the data includes the voter's full name, phone number, residential address, voting history, and other details related to the vote. It's worth noting that although some states' data are public and available for free download, not all states do.
On the Dark Web Forum ad page, the seller offers the following list and pricing: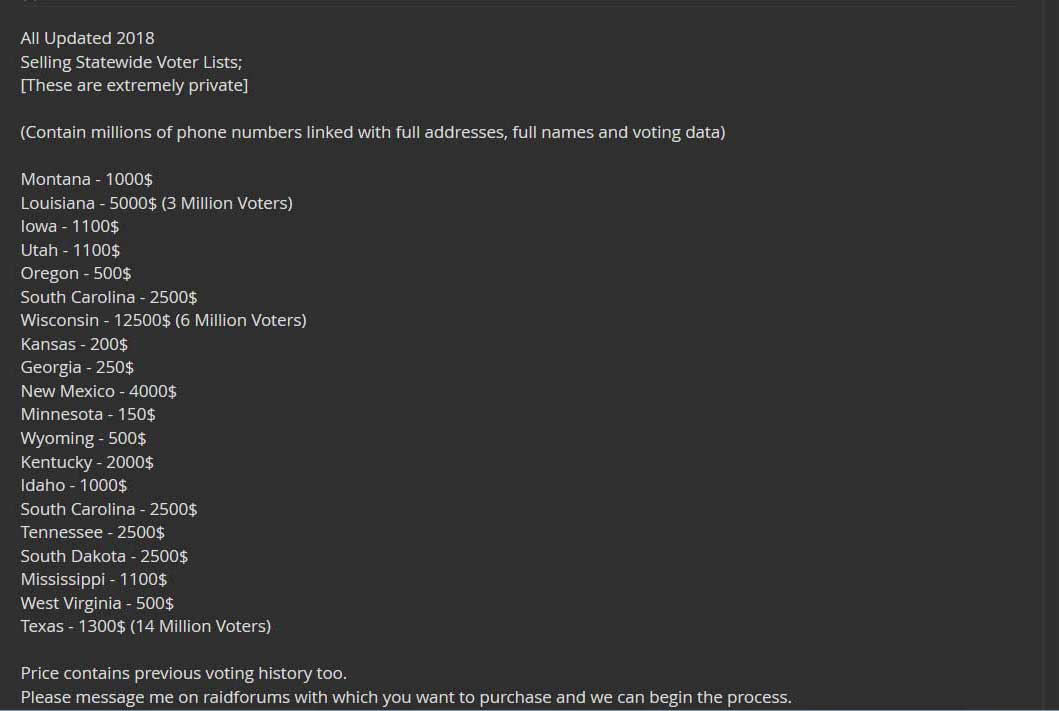 The seller's advertisements only identified the number of specific voter records for three states, Louisiana (3 million), Wisconsin (6 million), and Texas (14 million), with a total of 23 million records. Prices range from $150 to $12,500. In addition, buyers can purchase all data at a one-time payment of $42,200.
The researchers even estimated that the full content of this data breach may exceed 35 million records.
Users who commented on the forum said the data could come from the June Robocent incident (the voter record of Robocent, the US automated voice service company was leaked), but the seller claimed that they update data every Monday,so they have other ways to get data.
The researchers said the ad was released on October 5. In just a few hours, someone launched a crowdfunding project to buy all the data. According to the sponsor, the purchased data will be provided free of charge to all registered members of the forum. The researchers also pointed out in an article published on Monday that data on the first state, Kansas, has been purchased and published.
The second crowdfunding project is already underway, and the target of the purchase has been voted for Oregon by all Forum members. The current funding has been raised to $103.63, which is close to 20.7% of the target funds (we can see in the above list) To, the Oregon data is sold at $500).
Learn more about 360 Total Security