Learn more about 360 Total Security
The world leading independent IT security institute, AV-TEST, released the most recent evaluation report on Jun 11th. 360 Security was ranked No.1 with 13/13 full score among 30 tested Android mobile security apps. It was the fifth time that 360 Security won the competition, the most through all products. The result again spotlighted 360 Security's strong detection rate, zero false positives and top running performance.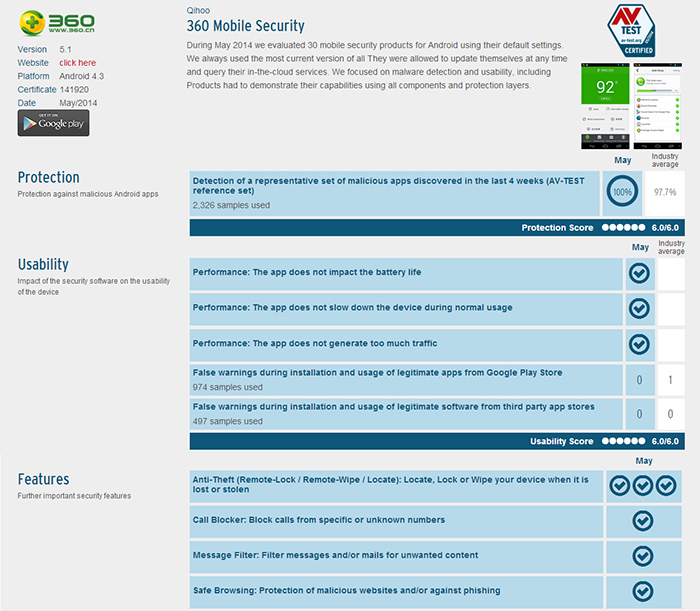 According to a 360 Security Center report, 360 Security has intercepted 215,300 malicious programs in Android platform during the first quarter of 2014, increasing 40.4% from the last quarter. Meanwhile, the number of infected users is 37.9 million, which leads to a 48.8% increase. In general, virus against mobile users is still growing significantly. 360 Security is one of the best choices for users to protect their devices and privacy from those threats. AV-TEST is a worldwide organization well-known for its massive evaluation samples and critical evaluation process. The recent report involves 30 Android mobile security softwares. 360 Security has also received the certifications from many other famous testing institutes such as PCSL and AV-Comparatives. 360 Security had 538 million users as of March 2014.
Download 360 Security at: play.google.com/store/apps/details?id=com.qihoo.security&referrer=104676
Follow us on Facebook: www.facebook.com/360safecenter
Learn more about 360 Total Security