Learn more about 360 Total Security
We launched 360 Total Security Premium in November. This Premium version includes amazing features to make your PC protection stylish. As we have promised to offer you security and utility services for FREE forever, you may wonder what the premium fee is for? Following are the answers to 5 frequently asked questions about 360 Total Security Premium and Free version.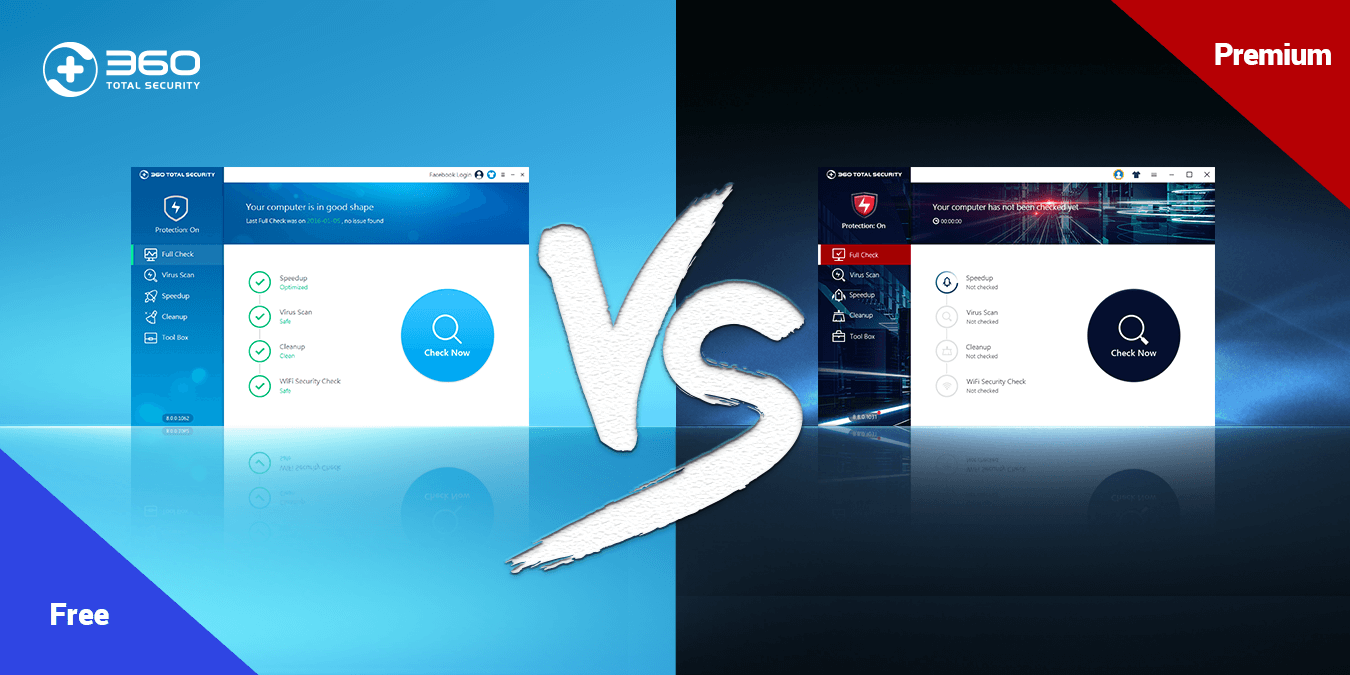 1. Do I need to pay for 360 Total Security antivirus now?
The answer is "NO." As we believe information security is a necessity and should be available to everyone in this digital era, a FREE solution for PC security and utility has always been our commitment to every user.
2. Even if I don't pay for 360 Total Security now, will I be charged in the future?
360 Total Security antivirus is free forever. We did not charge any fee for our services before, and nor will we do so in the future. Instead, we will keep developing more PC security and performance optimization tools to keep your PC in good shape.
3. Then why should I become a 360 Premium Member?
You can enjoy a bunch of new value-added services! In addition to a powerful unified solution for PC security and utility, 360 Total Security Premium is also equipped with:
1. 360 Lively Theme that brings your program a spectacular look to match your style,
2. Ad-Free feature that removes advertisements from your 360 Total Security software,
3. and special offers for members to purchase partnered apps and games with discount.
4. How much is 360 Total Security Premium?
The Premium version is only €9.99 per year, and one license can protect up to 3 devices. What's more, we are offering a 20% off early-bird discount now. Best security, best price!
5. As a Free version user, how can I support 360 Total Security to make it better?
You can visit our website and blog, where we provide cybersecurity information, product introduction and security tips. If these articles are helpful for you, you can share them or like us on Facebook.
You may also notice that there are advertisements in 360 Total Security. We strictly select our sponsors and review the ad contents displayed in our software to guarantee a good user experience. If you find the ad contents disruptive or inappropriate, you can send your feedback to help us improve our review process.
If you really dislike the advertisements, upgrading to the Premium version is another good option. (We promise, there are many other benefits, and you will not regret!)
No matter you are a Premium or a Free version user, the easiest yet most effective way is to share how good 360 Total Security is with your friends and family. As a unified solution for PC security and performance, our goal is to bring you a faster, safer and cleaner PC.
Learn more about 360 Total Security