Learn more about 360 Total Security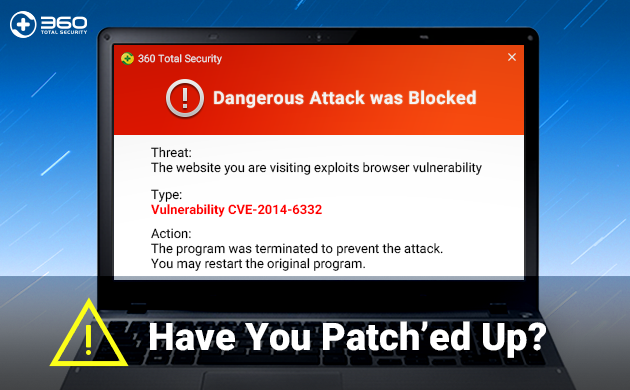 On November 11th, Microsoft's Security Bulletin posted a vulnerability – CVE-2014-6332 – which was not known to the public, until that day. There was no information to indicate that it was ever exploited, until today. Especially targeting political and religious groups in the Asia-Pacific region, a number of Trojan horses were reported to exploit this vulnerability during the last few days. Attackers could take advantage of this vulnerability and exploit un-patched Internet Explorer. As a result, outdated browsers visiting compromised websites would allow attackers to gain the same user rights as the visiting user.
360 Total Security offers solution that prevents un-patched browser to access the compromised websites. Additionally, its Patch Up utility assists your PC with the installation of MS14-064, which is the official patch from Microsoft for this issue.
360 Total Security is free for download at www.360totalsecurity.com. Get Protected and Patch Up today!
Learn more about 360 Total Security