Learn more about 360 Total Security
Today, we introduced 360 Total Security Version 9, along with 360 Premium Membership. The new version is equipped with innovative features and value-added services, including 360 Lively Theme, Ad-free protection, 360 Game Booster, and 360 Connect 3.0.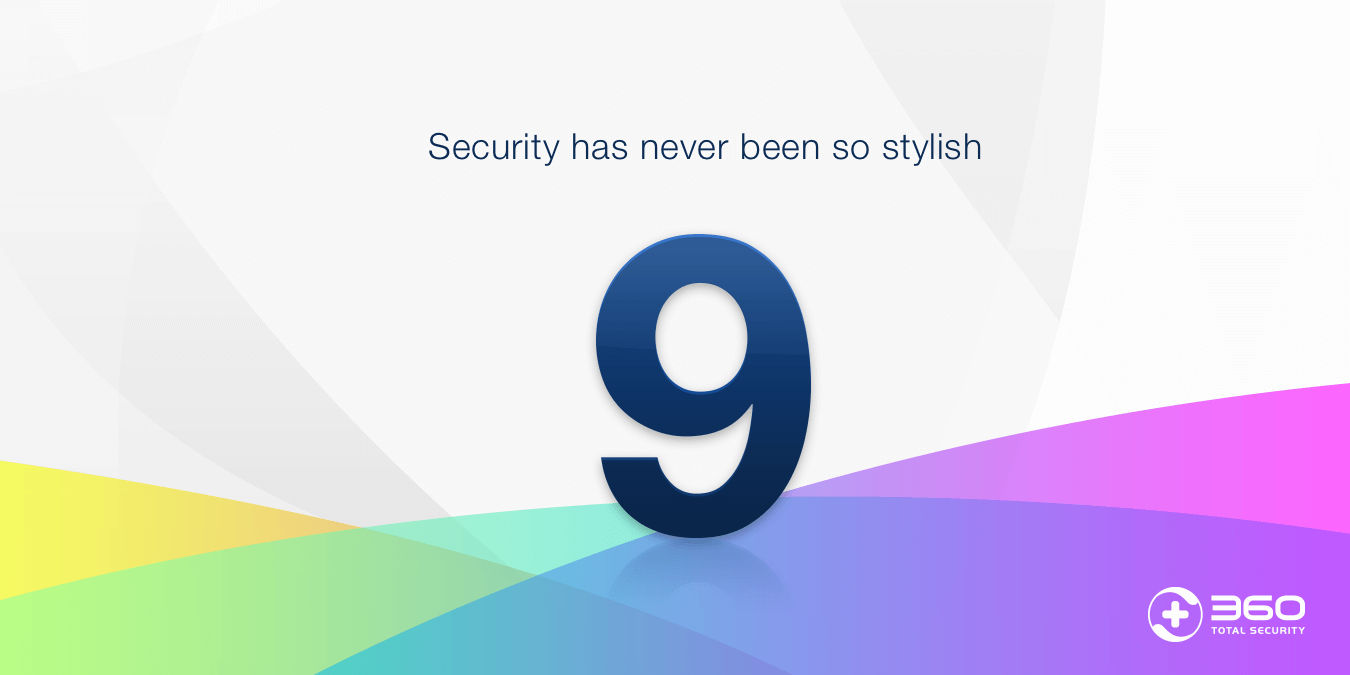 360 Game Booster – Optimize your PC for the best gaming experience
360 Game Booster is a brand-new feature specifically built for gamers. It automatically kicks in when users start playing games. To maximize your PC performance for gaming, 360 Game Booster terminates unused processes, suspends background tasks, and releases more RAM to improve PC performance for an ultra-fast gaming experience.
Even if your PC is not designed for gaming, 360 Game Booster can still make it powerful enough to deal with heavy gaming sessions.
360 Premium Membership – Security has never been so stylish 
360 Premium Membership, a value-added service integrated into the new version, also makes its debut. As themes are one of the most discussed and loved features, 360 Lively Theme is the highlight of 360 Premium Membership. This innovation makes 360 Total Security 9 the most spectacular and stylish version ever.With a breakthrough design that replaces its original still background with light dots moving on the interface, 360 Total Security brings more fun and personal style to PC protection.
In addition to Lively Theme, we also offer Ad-free protection option in 360 Premium Membership. "Free Security" has long been our commitment to users. Instead of being charged for security and performance optimization, users can see sponsors' advertisements in the software.Advertising serves as a revenue resource to cover the research and development expenditure, so as to offer a better product and more services.
As a 360 Premium member, you can enjoy an ad-free experience while staying protected and keep your PC security in style with 360 Lively Theme.
Connect 3.0 – Assist friends and family remotely with more ease
In Version 9, 360 Total Security also comes with 360 Connect 3.0.  This application is developed for users to help their friends and family fix PC issues from distance. 360 Total Security's feature such as Full Virus Scan now can be conducted on paired PCs from a mobile phone.
Now, Two-way communication and PC screenshot are included to make remote assistance much easier. Once paired, both 360 Connect PC and mobile users can send instant messages and screenshots to each other now. This new feature creates more efficient and convenient communication for users to check and fix PC issues.
Now 360 Total Security Version 9 is available for FREE download on our official website. You can also purchase 360 Premium Membership on 360 Web Store at €9.99 per year with a 20% discount.
Learn more about 360 Total Security