Learn more about 360 Total Security
SHENZHEN, China, March 20, 2015 /PRNewswire/ — Qihoo 360 and Microsoft announced a collaboration agreement for the distribution of Windows 10 on March 18th.
The announcement was made in a joint event, during the WinSEC 2015 hosted by Microsoft in Shenzhen.
According to Zhou Hongyi, CEO of Qihoo 360 "Windows 10 will continue Qihoo 360's mission to protect computers. We share over 500 million customers with Windows, and we are confident that our users will be very happy with the Windows 10 experience we're creating with Microsoft."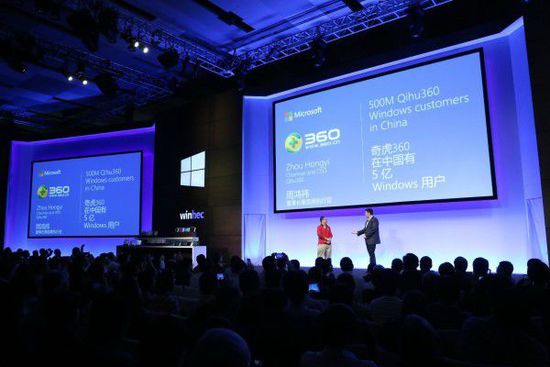 Via Qihoo's update tool, Qihoo users in China will be able to upgrade their current Windows systems to Windows 10 – the newest version of Microsoft's operating system which is planned to be released this Summer. In addition to the free upgrade from Windows 7, 8 and 8.1 offered by Microsoft, this agreement makes all Qihoo users on Windows XP eligible for Windows 10. Moreover, it allows the upgrade from all qualified PCs, regardless if it is a genuine copy or not.
In the past, Qihoo has partnered with Microsoft and discovered numerous security issues in various Windows versions. This distribution agreement further enhances the collaboration of the two companies.
International users can enjoy Qihoo's update tool as a part of 360 Total Security solution. 360 Total Security is free for download at www.360totalsecurity.com.
About Qihoo 360
Qihoo 360 Technology Co., Ltd. is a leading Internet company in China. The Company is also the number one provider of Internet and mobile security products in China as measured by its user base, according to iResearch. Qihoo 360 also provides users with secure access points to the Internet via its market leading web browsers and application stores. The Company has built one of the largest open Internet platforms in China and monetizes its massive user base primarily through online advertising and through Internet value-added services on its open platform.
To view the original version on PR Newswire, visit <here>
SOURCE Qihoo 360 Technology Co. Ltd
Learn more about 360 Total Security