Learn more about 360 Total Security
AV-Comparatives recently released their test results of their well-known "Real-World" Protection test. With up to 99.4% detection rate and low false positive rate, 360 Internet Security was rewarded the highest rating, Advanced+.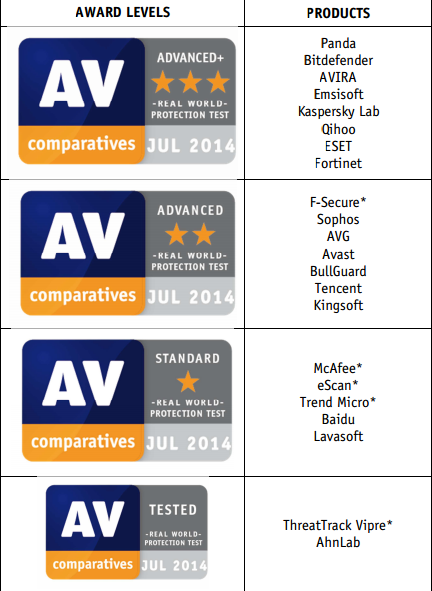 From the statistics from March-June 2014, many tests were made to test whether or not anti-viruses held up to real world malicious attacks. In total, 23 test subjects were put to the test and were tested thoroughly to provide the most accurate test results.
The first test consisted of 4003 test cases of malicious attacks to the user's computer. In that test, Qihoo 360 Internet Security received a score of 99.4% Protection Rate. Less than 1% of attacks made it through the protection. Out of the 4003 test cases, 3972 were blocked, 16 were user dependent, and 15 compromised attacks made it through.
The 2nd test was the Whole Product "False Alarm" Test. This test has two parts: Wrongly blocked domains (while browsing) and wrongly blocked files (while downloading/installing). In that test Qihoo 360 Internet Security scored a 3.5, while the average score was 11 (the smaller the score, the better).
As a result, Qihoo 360 Internet Security was awarded with the highest award of 3-star Advanced+.
Qihoo 360 is the largest internet and mobile security company in China, with more than 500 million PC users and more than 500 million smartphone users. Its industry leading security technology earns its trust from users around the world. It is worth mentioning that all its security products are free. Users can download them at https://www.360totalsecurity.com/
Follow us on Facebook: http://www.facebook.com/360safecenter
Learn more about 360 Total Security