Learn more about 360 Total Security
June 11, 2014, Microsoft gave Qihoo 360 a vote of thanks in public for working independently on finding vulnerability and assisting Microsoft in bug-fixes. It is the first time that Microsoft gave so much thanks to a security software company, which is superior over other companies around the world. Qihoo 360's capacity in vulnerability detecting and protection is ranked first in the globe. Wide-spread and high-risk Advanced Persistent Threat (APT) attacks various user's system vulnerabilities.
Thus vulnerability detection and protection capacity is the core of a security company.Microsoft gave thanks to Qihoo 360 38 times. Qihoo 360 has world-leading vulnerability detection skill.On June 11, Microsoft released 7 security patches to fix 66 bugs of various systems like Win7, Win8, IE, and Office.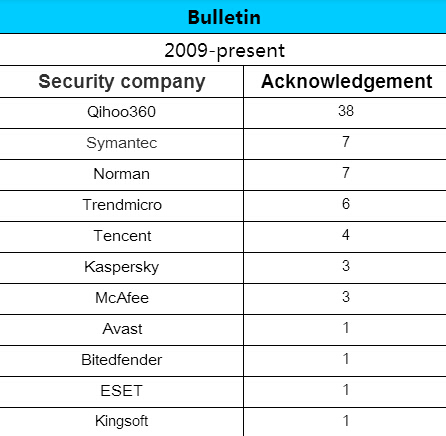 One-third of 66 bugs Microsoft fixed were solely detected by Qihoo 360. 360 not only has partnership with Microsoft MAPP Program, but also is a core support unit of CNNVD (China National Vulnerability Database of Information Security). Qihoo 360 is No.1 in vulnerability protection capacity evaluated by different institutions.  
Through detecting vulnerabilities actively, finding bugs timely, 360 further developed its vulnerability protection capacity. 360 has become the market leader of vulnerability protection. Four of the most-known institutions in the world AV-C、AV-TEST、COSEINC、PCSL held vulnerability protection capacity tests separately after Microsoft officially suspended Windows XP service on April 8th.
Many big name security companies took the test including Qihoo 360, Avast, AVG, Avira, Bitdefender, Eset, Kaspersky, Norton, etc. 360 is ranked first in all of the tests. The average block rate among the security companies participated the test was around 60%, while Qihoo 360 achieved a 100% block rate.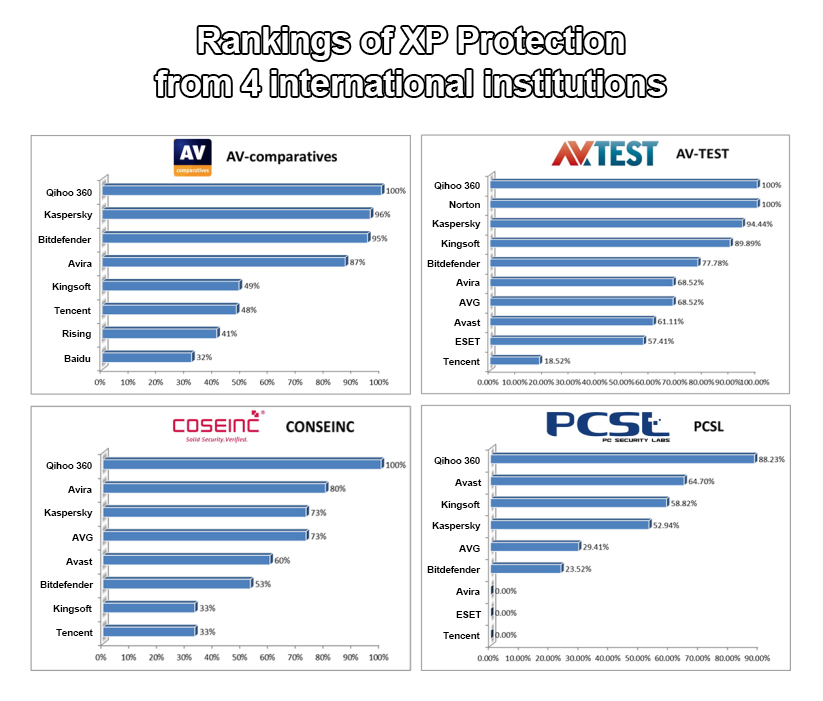 Rankings of XP protection provided by four institutions
Qihoo 360 is leading the global industry of vulnerability detecting and protecting, and 360 will bring better Internet and mobile protection to users around the world.
Follow us on Facebook: www.facebook.com/360safecenter
Learn more about 360 Total Security