Learn more about 360 Total Security
According to a recent report from the Citizen Lab, Pegasus, considered one of the most dangerous mobile spyware in the world, has appeared in 45 countries over the past two years. Used to monitor the target person.
The notorious Pegasus spyware, developed by the Israeli company surveillance company NSO group, is known for selling high-tech monitoring tools that can remotely invade iPhone and Android devices to intelligence agencies, military and law enforcement agencies around the world.
Pegasus can be seen as the most powerful creation of the NSO group, designed to remotely attack iPhones, Android and other mobile devices, allowing attackers to access a large amount of data from a target victim, including text messages, calendar entries, emails, and WhatsApp messages. , user real-time location, microphone and camera.
According to the related reports, Pegasus was previously used to monitor human rights activists and journalists in Mexico and the United Arab Emirates.
Last month, the news from foreign media said the spyware was also used to attack a staff member of Amnesty International from Saudi Arabia and another Saudi human rights defender who resided abroad. Amnesty International is one of the world's best-known non-profit human rights organizations, consisting mainly of sociology professors around the world, monitoring international violations of human rights.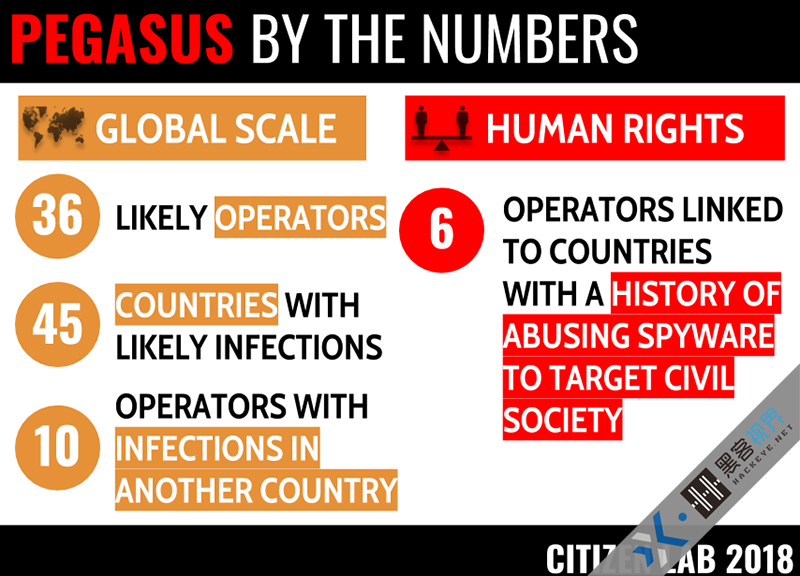 Now, Citizen Labs pointed out that the number of victims actually monitored by Pegasus spyware is much larger than the number mentioned in their previous report.
36 Pegasus operators monitor in 45 countries
In a report released last month, Citizen Lab explicitly mentioned that "to date, 175 people worldwide have become targets for monitoring Pegasus spyware". Now, the lab has released the latest statistics and said it has found Pegasus-based cyberattacks in as many as 45 countries.
According to the report, a total of 36 Pegasus operators were found to have been using the spyware to monitor in 45 countries around the world, and at least 10 of them were suspected of participating in cross-border surveillance.
The report further states that although some NSO group customers may use Pegasus for legitimate purposes, at least six countries that purchase and use Pegasus are "known spyware abusers" – these countries previously It has been reported to abuse spyware and target its citizens as a monitoring target.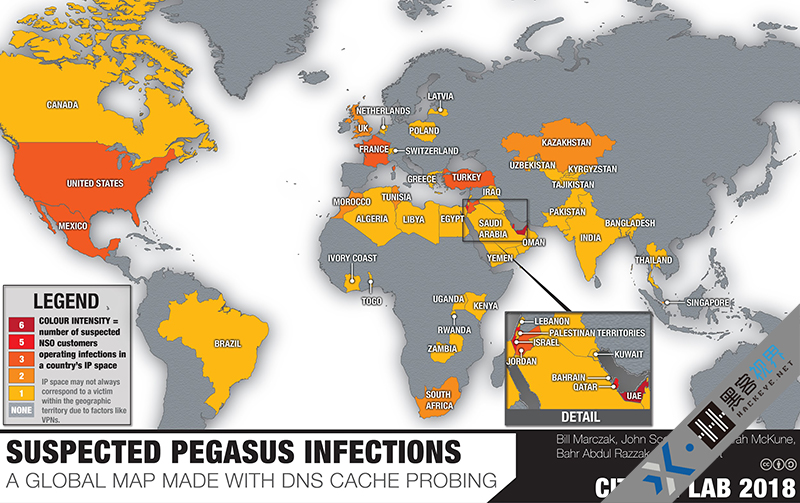 According to the latest report, these "known spyware abusers" include Bahrain, Kazakhstan, Mexico, Morocco, Saudi Arabia and the United Arab Emirates, while the list of countries infected with Pegasus includes Algeria, Bahrain, Bangladesh, Brazil, Canada, Côte d'Ivoire, Egypt, France, Greece, India, Iraq, Israel, Jordan, Kazakhstan, Kenya, Kuwait, Kyrgyzstan, Latvia, Lebanon, Libya, Mexico, Morocco, Netherlands, Oman, Pakistan, Palestine, Poland, Qatar, Rwanda, Saudi Arabia, Singapore, South Africa, Switzerland, Tajikistan, Thailand, Togo, Tunisia, Turkey, United Arab Emirates, Uganda, United Kingdom, United States, Uzbekistan, Yemen and Zambia.
NSO group response: it is legal sale, citizenship laboratory report is incorrect
In response to the citizen laboratory report, a spokesperson for the NSO group issued a statement stating that the company's sales practices were in full compliance with national regulations and did not violate any laws, including export control regulations.
"Contrary to your statement, we sell products to governments and law enforcement agencies for the sole purpose of investigating and preventing crime and terrorist activities." NSO group spokesperson Shalev Hulio responded to the Citizen Lab, "The NSO's Business Ethics Committee includes Third-party experts from different fields, such as legal and diplomatic relations, who review and approve each transaction of the NSO group and have the right to refuse to sign the agreement or revoke the existing agreement in the event of improper use."
The NSO group further stated that there were some problems with the citizen laboratory report, and that the company had no sales records in many of the 45 countries listed in the report.
Learn more about 360 Total Security