Learn more about 360 Total Security
A few days ago, a novel class security flaws including "Meltdown" and "Spectre" in almost every Intel CPU was revealed by the Google Project Zero security research team. The flaws affect almost all the PCs, laptops, and servers in the world. Once the vulnerabilities being attacked, the users' private information would be exposed and obtained by malicious actors.
The giant CPU manufacturer, Intel, claims to apply system and firmware patches to make its processors immune, while industry experts believes that a redesign is needed to address all the vulnerabilities.
Yet 360 users don't have to worry, since we have already launched our CPU Vulnerability Assessment and Fix Tool which can block the intrusions by exploiting these CPU vulnerabilities. It checks if these CPU vulnerabilities exists in your computer, and helps you download and install new patches within 1-click.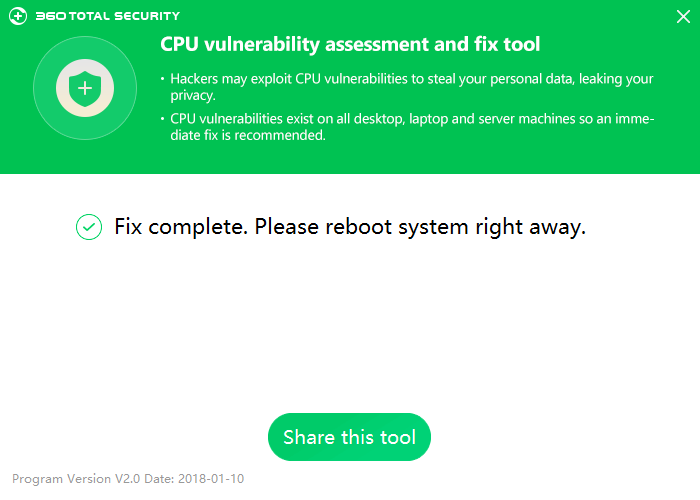 How to avoid attacks like this and stay safe in the future
The CPU vulnerabilities influence a big range and sound terrifying, but if you keep good computer security habits, being safe is not difficult.
1. Keep your 360 Total Security up-to-date
2. Use "Patch up" to have your software up-to-date
3. Conduct a "Full Check" so our Internet Security feature will remind you if your browsers are outdated, which are often exploited by attackers.
4. Use "Driver Updater" to keep your drivers always up-to-date.
5. Use "Privacy Cleaner" to clean your online footprints so that cyber criminals can't follow your track.
6. Upgrade to Premium so you can have First Priority Support when you face any issues.
And don't forget to follow us on Facebook, Twitter, Google+ and VK, and subscribe to our Email list to always stay informed of the latest security threats and solutions.
Learn more about 360 Total Security